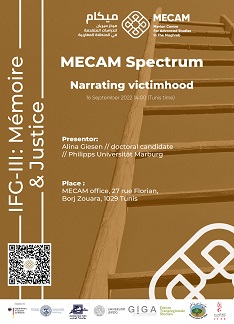 Narrating Victimhood presented by Alina Giesen
Abstract:
Narratives of victimhood are often central to the stories told by family members of forcibly disappeared persons about their absent loved ones. How do these family members narrate victimhood through the 
memory work they engage in and as they are seeking truth and justice? What can we learn from this narration about how memory is shaped and negotiated in the aftermath of forced disappearance? Alina Giesen  presents some of the findings from her research.
Details:
Event date: Friday, September 16, 2022, at 2:00 p.m.
Location: At the MECAM center, at ISEAHT 27, rue Florian – Borj Zouara (Bab Saadoun), Tunis.