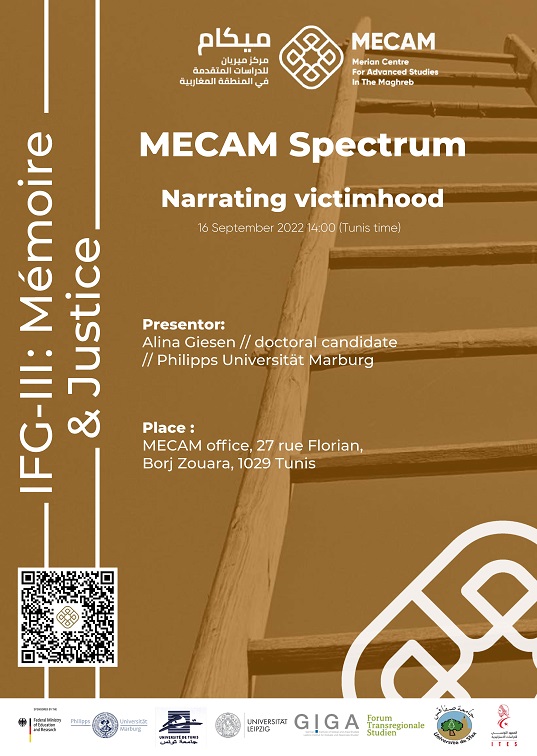 Narrating Victimhood presented by Alina Giesen
Narratives of victimhood are often central to the stories told by family members of forcibly disappeared persons about their absent loved ones. How do these family members narrate victimhood through the memory work they engage in and as they are seeking truth and justice? What can we learn from this narration about how memory is shaped and negotiated in the aftermath of forced disappearance? Alina Giesen presents some of the findings from her research.
Entangled Histories: The Black movement in Tunisia and the criminalization of racial discrimination through Law 50
On 9 October 2018, the Assembly of People's Representatives in Tunisia adopted the Law on the Elimination of All Forms of Racial Discrimination (popularly known as Loi 50 or Law 50). Starting with journalistic interviews and coverage that followed the passing of the law and through the coverage on application of law in criminal or civil cases, the entangled histories of both – the law and the Black movement – in Tunisia post-2011 continue to be assumed.
In this public talk, Parikh will trace the entangled histories of the Black movement and the making and application of Law 50 until present. She will outline the making of Law 50 as a project that emerges from conversations in anti-racism organizations headed by Black Tunisians. This will be followed by a presentation of key cases that have made use of Law 50 and the challenges that remain in implementing the law. Parikh will end with a reflection on implications of this entanglement in thinking and writing about Blackness in Tunisia.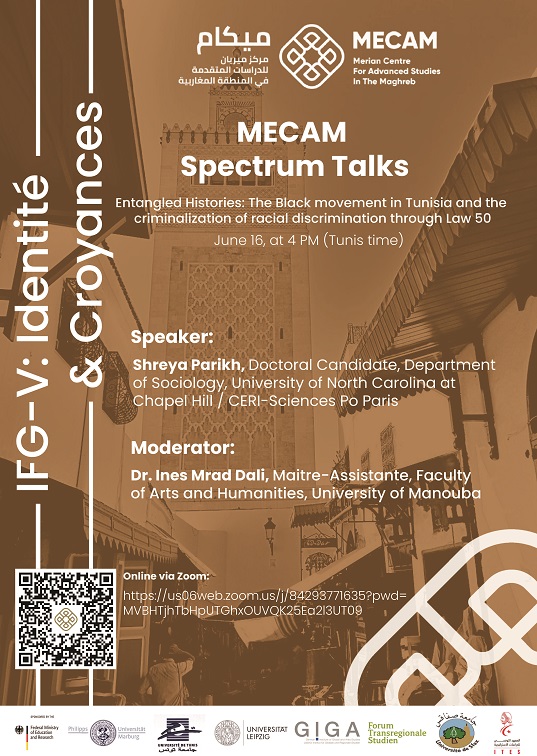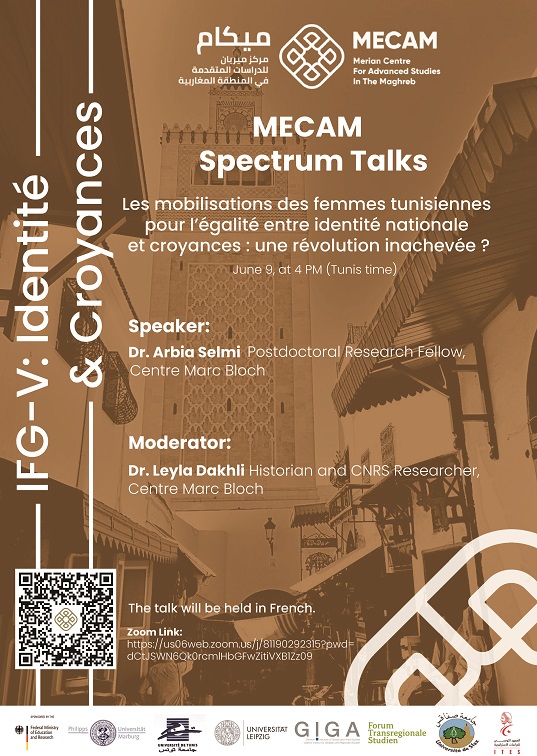 Tunisian women's mobilisations for equality between national identity and beliefs: an unfinished revolution?
By Arbia Selmi
After twelve years of Arab revolts, Tunisia is going through a decade of profound political, economic and social changes, with the main issues being the establishment of democracy, social justice, the fight against exclusion and gender inequality. However, despite significant advances in women's rights in Tunisia, women cannot inherit on an equal basis with men; a feminist movement for equality in inheritance was created in 2018; gathering more than 60 secular feminist associations, mobilised against the Islamic movement to pressure the government to adopt a law for equality in inheritance proposed in 2018. In addition, the Tunisian Parliament is rejecting the draft law establishing equality in inheritance between the sexes. This is due to the patriarchal societal culture, religion and "national identity" which is defined in Article 1 of the Tunisian Constitution of 1 June 1959 and repeated in 2014. This rejection provokes the anger of women who have mobilised to pressure the government to adopt this text.  My research project answers the question, "How do national identity and beliefs influence the rights of Tunisian women? "
This study is a cross between sociology of gender, mobilisations, law and Islamic studies. I will opt for a qualitative research and an analysis of the archives of feminist associations, in order to understand the influence of national identity, beliefs, societal culture and law in the creation of inheritance inequalities for women but also in the establishment of effective equality in all domains in post-revolutionary Tunisia.
Keywords: Gender, equality, identity, beliefs, law, mobilisations.
Mohamed Ismail Sabry: State-Society Relations and Growth Paths in North Africa
Wednesday, 1 June 2022, 14:00-15:30 (Tunis Time) // 15:00-16:30 (CEST)
This talk presents Mohamed Ismail Sabry's project at MECAM's IFG IV. The project conducts a comparative analysis of the growth paths that develop from the existing state-society relations in Tunisia and Morocco.
State-society relations are analysed based on state-business-labour relations (SBLR), the power relations between the main actors in the industrial sector of the studied countries: the state, big businesspersons (tycoons), owners and managers of small and medium enterprises (SMEs) (entrepreneurs), and labour. SBLR shape policies, regulations, legislations, and the degree of their enforcement, leading to a unique industrial policy profile for each country. The focus is on competition-related and social protection policies as arenas for potential inter-actors' conflict. The resulting industrial policy then leads to different growth paths. In the project, the growth paths are considered in terms of a matrix of levels of long-run growth, equality, and environmental sustainability.
Tunisia and Morocco developed different SBLR in the post-colonial period and these relations are still evolving in ways that this project is trying to explore. The project adopts a comparative case studies approach, using mainly qualitative data supported by statistical data analysis.
The talk will be held in English on 1 June 2022 at the MECAM premises, c/o ISEAHT, 27, rue Florian – Borj Zouara (Bab Saadoun), Tunis, and Online via ZOOM.. It will be commented Online by Dr. Thomas Richter (Institute for Middle East Studies, German Institute for Global and Area Studies (GIGA), Hamburg).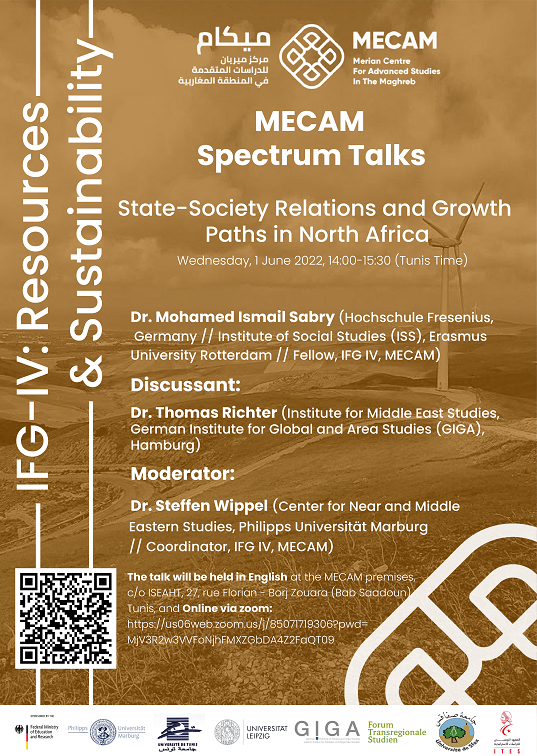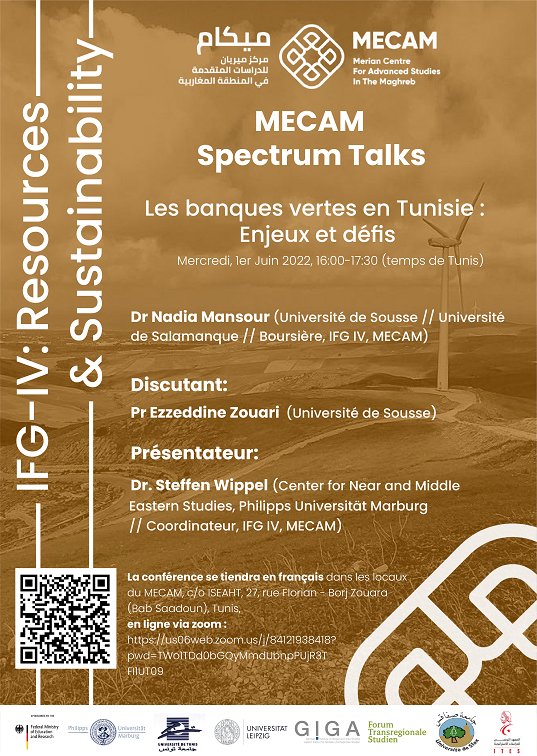 Nadia Mansour: Les banques vertes en Tunisie: Enjeux et défis
[Green Banks in Tunisia: Issues and Challenges]
Wednesday, 1 June 2022, 16:00-17:30 (Tunis Time) // 17:00-18:30 (CEST)
This work provides an overview of the importance of sustainable finance in the fight against global warming and environmental protection in Tunisia. In this context, several international banks have recently adopted commitments to exclude from their portfolios certain sectors of activity deemed to be polluting, such as the extraction and exploitation of coal, drilling within the Arctic Circle, the exploitation of oil from bituminous sand, etc. Our results have shown that Tunisian banks are trying to get involved in this path. However, these announcements are rather symbolic, without bringing about the profound changes that the financial and economic system needs.
"Tragedy of the horizon" is a concept coined by Mark Carney, the Governor of the Bank of England, in 2015. Carney was giving a speech to Lloyd's of London, and the topic was climate change, an obvious area of interest and a source of future financial risk. For the first time, this address made international financial market participants aware of the challenges of climate risk.
Today, an investor has three reasons to invest responsibly: first, for economic reasons: climate change will have a big effect on the economy; second, for financial reasons: new regulations that will limit gas emissions will have a major impact on asset prices; and finally, for moral reasons: we all have to work for the good of future generations to limit the effects of global warming. Hence the following question: To what extent are environmental risks integrated into banks' financial decisions?
The talk will be held in French on 1 June 2022 at the MECAM premises, c/o ISEAHT, 27, rue Florian – Borj Zouara (Bab Saadoun), Tunis, and Online via ZOOM. It will be commented by Prof. Ezzeddine Zouari (University of Sousse).
Alexander Martin: A Just Energy Transition for Tunisia
Wednesday, 25 May 2022, 16:00-17:30 (Tunis Time) // 17:00-18:30 (CEST), In cooperation with Friedrich Ebert Foundation/Friedrich-Ebert-Stiftung  (FES), Tunisia Office, La Marsa.
Using the concept of Energy Justice and the Just Transition framework, this talk critically analyses Tunisia's energy transition. The shift from fossil fuel dependence to energy produced from renewable sources and the establishment of a green economy is a difficult but scientifically essential process for all countries to undertake in order to diminish the impact of climate change while building economic and energy resilience. However, if undertaken effectively, energy transition can bring an opportunity to redress existing national, and global, injustices and inequalities.
Tunisia has committed to ambitious renewable energy production and carbon emission reduction targets as part of its COP26 Nationally Determined Contributions (NDCs) commitments. However, these goals are primarily driven by an intersection of geopolitical and macro-economic factors: the need to improve the state's energy security and reduce expenditure on hydrocarbon imports as energy demand is increasing and local-national hydrocarbon production is simultaneously decreasing.
Despite the chaos that climate change is causing, if Tunisia's energy transition also pays attention to social justice and employment opportunities, such as decentralising energy management and reskilling the workforce, it can also be a ladder to overcome decades of regional underdevelopment and marginalisation, particularly in the oil-producing regions that have the greatest Solar Photovoltaic potential.
The talk will be held in English at the office of the Friedrich Ebert Foundation (FES), 4/4A, rue Bachar Ibn Bord, in La Marsa and Online via ZOOM.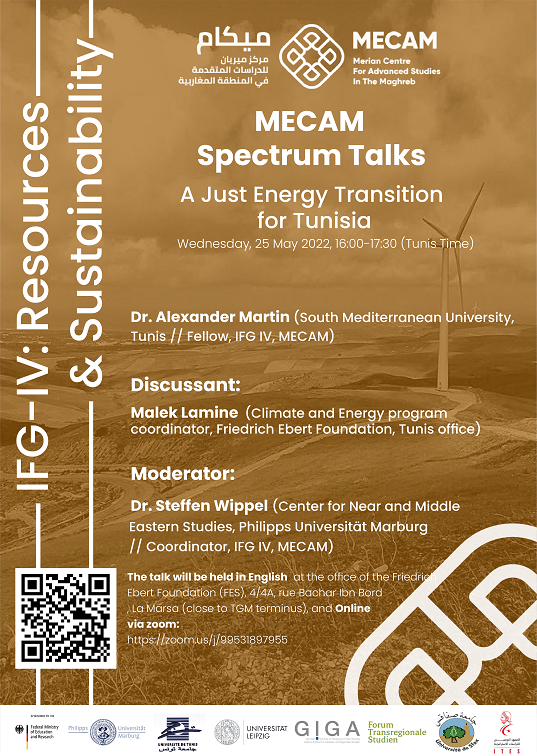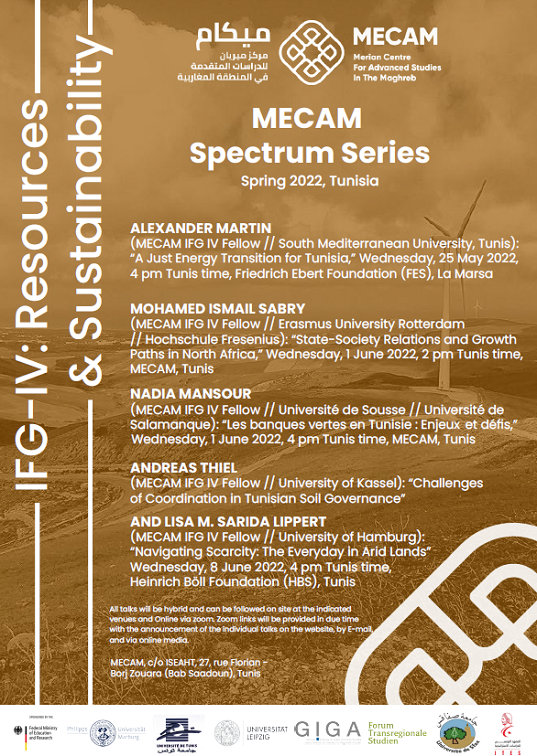 FG IV Resources & Sustainability: Conference series MECAM Spectrum, Spring 2022
From March to June 2022, the fourth Interdisciplinary Fellow Group "Resources and Sustainability" (IFG IV) at MECAM works on the origins and potential effects of a range of economic and social strategies that are currently being explored to create an alternative model of sustainable economic development in North Africa. The IFG investigates how such strategies might lead to positive socio-economic development and help address environmental challenges.
In the MECAM Spectrum series, the five IFG IV fellows at different stages of their research career and from different social science disciplines present their research at a variety of institutions, in a variety of contexts, and to a variety of audiences while in Tunisia. Well-known colleagues from Tunisian and German institutions will discuss these lectures. All talks will be hybrid.
Of Friends and Foes: Paths to Salafi Politics
This paper looks at something unexpected – how 'quietist' Salafi actors, who claim they "don't do politics", actually do do politics. Salafism, a puritanical, scripturalist, literalist Sunni Islamic trend, is one of the most important Islamic ideologies of the past seventy years (Bano 2021). Salafi groups' link with politics is arguably their central dilemma – can they adhere to God's injunctions and acquiesce to 'secular' political power where the ruler doesn't impose (strict) Islamic law? Politically 'quietist' expressions of Salafism were long thought to be a defining feature of Salafi trends. These Salafi groups are typically known for their focus on studying and teaching Islam, and cleansing it of 'impurities', and their lack of interest in formal politics, if not their traditional full-blown rejection of all formal political participation and activism. Much scholarship on contemporary Salafism typically describes the politics of Salafi actors in terms of involvement in formal institutional politics, the formation of Salafi political parties, and engaging in contentious politics – practices that 'quietist' Salafi groups explicitly disavow. This paper, however, attempts to advance understanding of Salafi political practices and, in doing so, broaden and nuance notions of 'political' Salafis within the scholarship on Islamic politics. It does so by critically reworking interventions on boundary-politics (Schmitt, 1996) and political friendship (Friedman, 1989). Drawing on Salafi literature (printed and online), and on in-depth interviews and ethnographic data from extensive fieldwork in Morocco and ongoing fieldwork in Algeria and Tunisia, this paper rethinks the nature of Salafi politics in terms of practices of drawing friend/antagonist borders at the level of key concepts.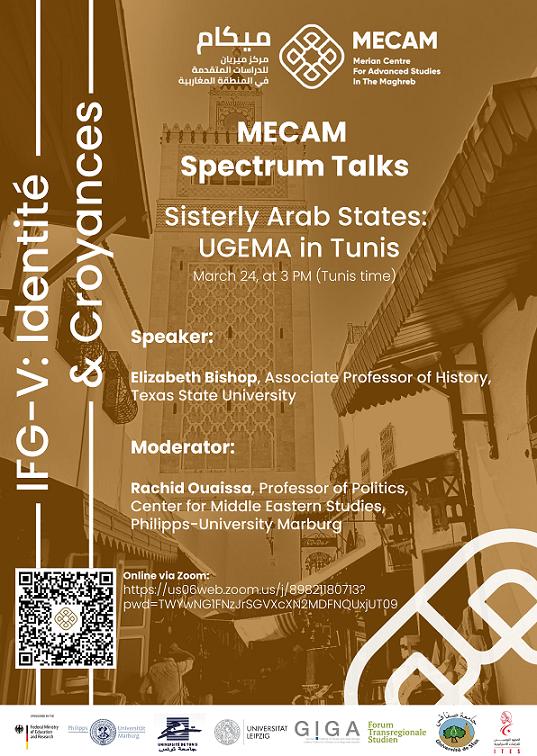 Sisterly Arab States: UGEMA in Tunis
L'UGEMA, l'Union Générale des Etudiants Musulmans Algériens (1955-1962) a organisé une grève pour le 19 mai 1956, à une époque où le rapport entre les résidents autochtones et les colons européens était de 9:1, mais où le rapport entre les étudiants autochtones et leurs camarades européens était de 1:9. Les organisateurs de la grève de l'UGEMA (eux-mêmes étudiants) ont identifié des lieux alternatifs où les étudiants pourraient poursuivre leurs travaux universitaires et leur développement professionnel. En établissant une section de l'UGEMA dans chaque pays où des étudiants algériens s'inscrivaient, et des bureaux diplomatiques à Alger et au Caire ainsi qu'à Paris, l'UGEMA est devenue une organisation vaste, diffuse et diverse dès la première année. Parmi celles-ci, la "Tunisie sœur" a pris de l'importance durant les premières années de l'indépendance de cette nation voisine ; à Tunis, les étudiants algériens ont fait d'une maison traditionnelle de la médina leur résidence et de deux restaurants voisins leurs salles à manger communautaires. Tirée des documents de ces membres qui désignaient Tunis comme " sororale ", cette présentation suit les débats sur l'utilisation de la lettre " M " pour distinguer leur identité, cartographiée à travers les concepts de famille et de féminité qui reliaient les nœuds de solidarité au-delà des frontières des juridictions. Finalement, l'UGEMA a émergé comme l'une des institutions fondatrices pour l'Algérie, lorsque les étudiants-leaders ont pris des responsabilités au sein de la République démocratique populaire, fondant l'analyse maghrébine et l'ouverture aux familles choisies en réponse à l'ouvrage de Suad Joseph "Brother/Sister Relationships : Connectivité, amour et pouvoir dans la reproduction du patriarcat au Liban" (1994).
IFG II inequality & mobility Spectrum Series
The Spectrum Series provided a forum for MECAM Fellows of IFG II to disseminate their research findings and to present on-going research projects on "inequality and mobility" in autumn 2021, bringing their work into dialogue with scholars from Tunisia and elsewhere. Most MECAM Fellows of IFG II presented their research in person at different Tunisian universities, such as the Department of Geography and Sociology at the University of Sfax, the Centre for Anthropology at the University of Sousse or the Institute for Urbanism and Environment (ISTEUB) in Tunis. Scholars from the respective host institution chaired and commented on these research presentations, providing vital feedback to MECAM Fellows and opening a wider debate with attending colleagues and students. Two of the Spectrum Series were organised in cooperation with international research networks and universities abroad, and thus took place as hybrid events, rendering the fellow presentations available to an international audience via zoom. One Spectrum Series specifically aimed at the dissemination of research findings beyond academia, as one of the MECAM fellows presented his on-going research on water governance to the Siliana governorate, opening a discussion between local government, IFG II participants, and invited Tunisian researchers.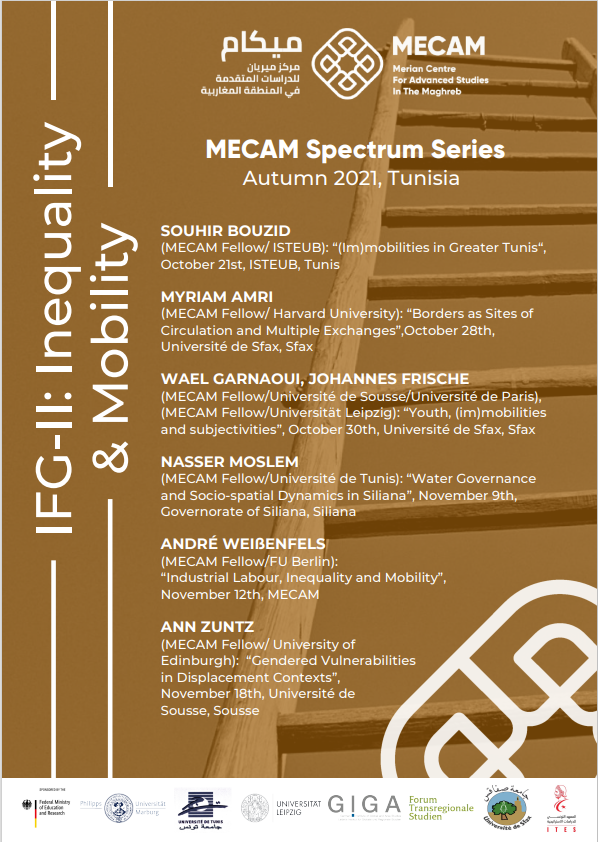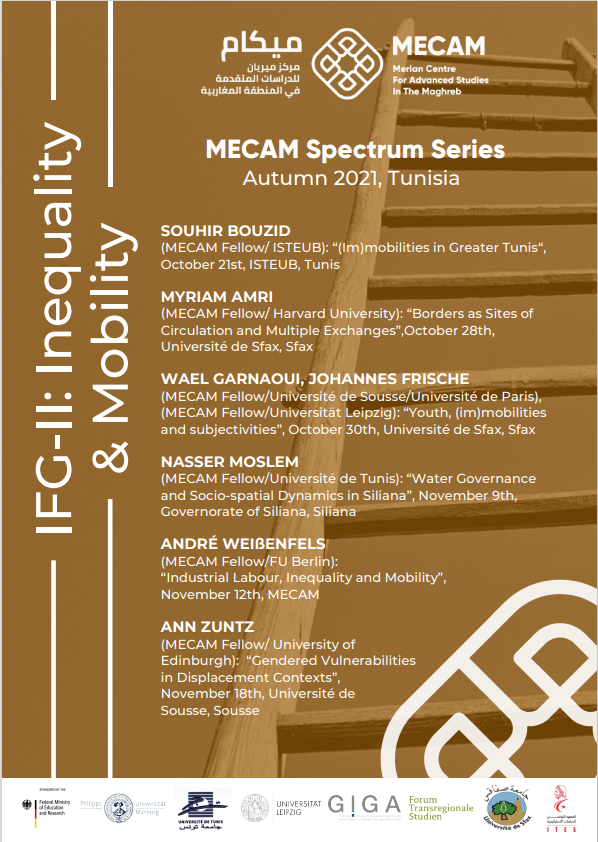 Migrant Narratives and Aesthetic Practices in Mediterranean Cinema
Sahar El Echi from Carthage University and a MECAM fellow, presented the phenomenon of migration that has raised questions that troubling society in the last twenty years and that cinema in turn questions.  As a means of study, the latter provides the history of migration with a reading tool and, consequently, shows how society deals with otherness by relying on the figure of the stranger.
This research questions the migrant narratives in relation to their filmic representations. We propose to grasp the mode of appearance of these narratives in cinema through an essentially narrative and aesthetic approach.
The history of cinema interests us in the sense that it apprehends an epoch, a movement, and a mode of production as variable realities, in perpetual change. It has a hermeneutic vocation because it operates at all levels and interacts with other disciplines such as Sociology and Anthropology.
This talk took place online, September 2, 2021, and was moderated by Alena Strohmaier from the University of Marburg.
Archival Excavations: The Algerian War of Independence and the Afterlives of Images
Since the 1990s, artists in and from Algeria have increasingly begun to explore the photographic archives of the Algerian War of Independence (1954–62), one of the most prolific wars of decolonisation. Notably, their engagements with historical collections have unfolded against ongoing political disputes surrounding the return of archives pertaining to the war from France to Algeria.
According to Algerian archivists, France illegally removed 600 tonnes of documents from its former colony in 1962; the French speak of the 'repatriation' of one quarter of the number given by their Algerian counterparts. Kataryna Falęcka, from Newcastle University and a MECAM fellow, discuss in this talk selected artworks that present us with multidirectional ways of reading historical collections beyond the state-led discourse on national sovereignty and heritage, effectively proposing new forms of custodianship over contested historical material.
This talk took place online, August 26, 2021, and was moderated by Michael Allan from the University of Oregon.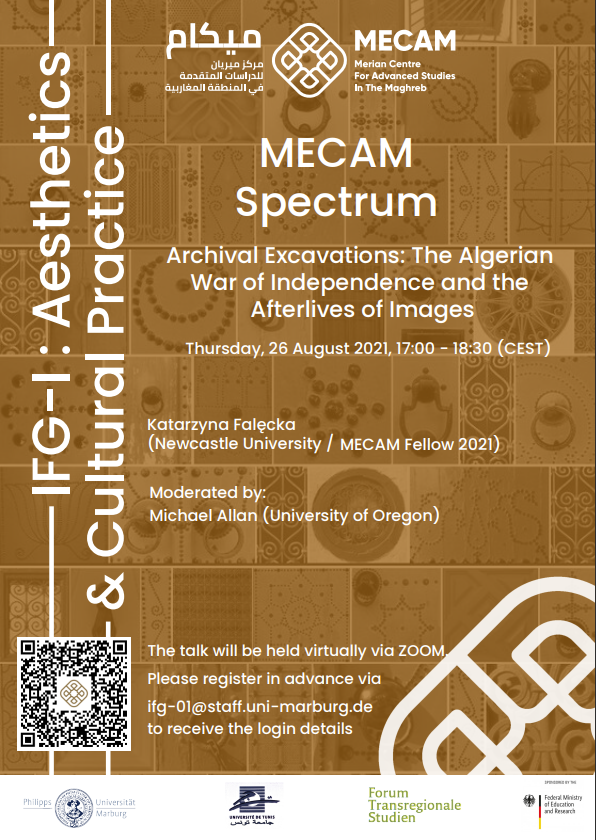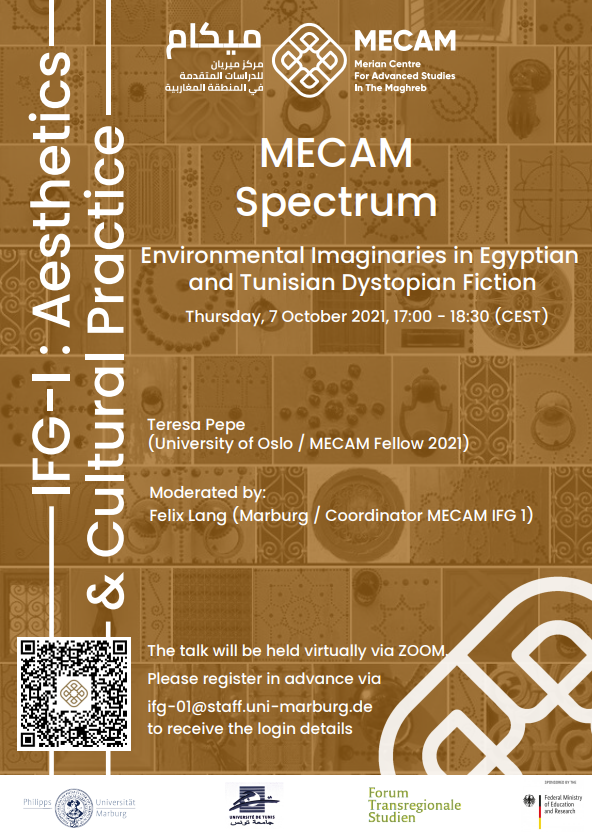 Environmental Imaginaries in Egyptian and Tunisian Dystopian Fiction
Teresa Pepe from University of Oslo and MECAM fellow speaks about dystopian fiction, that is fiction that offers pessimistic visions of the future, has become particularly popular in Arabic culture. These works, that range from novels to movies to tv series, often portray Arabic cities destroyed by environmental catastrophes, or future Arabic societies ruled by oppressive governments. This project analyses the development of this genre in Arabic culture during the modern and contemporary era. It focuses on several fictional works (novels, movies, TV-series) written by Egyptian and Tunisian authors during the XX and XXI centuries. Borrowing insights from global literary theory, it investigates the specificity of the genre in Arabic and how it participates to the global circulation of near-future fictions and catastrophic thinking. Besides, combining dystopian theories with eco-criticism, it explores the "environmental imaginaries" offered by these works, exploring the ideas that authors and readers develop about the landscape, including perceptions about that environment and assumptions on how it came to be in its current state (Davis 2011, 9). The project, thus, sheds light on how Arab authors imagine the future in their works, and it investigates whether the environmental challenge is becoming a growing concern for Arab authors, as part of a long-standing tradition of political commitment (iltizām).
The presentation took place online, on October 7, 2021, and was moderated by Felix Lang, from University of Marburg and the Coordinator of the Interdisciplinary Fellow Group "Aesthetics and Cultural Practice".
Digital Documentations of Migration Mouvements
The research project of Angela Rabing from University of Bremen and MECAM fellow, aims at analysing digital documentary films on current migration movements with regards to their aesthetic strategies towards creating filmic realism. Migration as well as digital media are two of the dominant factors of recent social, political, and cultural changes in the world. This is especially true for the MENA- and Maghreb-region, where LES SAUTEURS (2016) and MIDNIGHT TRAVELER (2019) are set. Both films are shot on digital devices such as mobile phones and can be understood as audio-visual counter-images to narratives of a 'refugee crisis' or a 'crisis of representation'.
The analysis draws closer attention to two aesthetic concepts that are closely linked to digital media as well as migration: uncertainty and mobility. While digital media are often discussed in terms of manipulation and 'fake news', the project asks what aesthetics, practices and strategies of filmic realism are deployed and how digital media supports or undermines an aesthetic of filmic realism. Moreover, the analysis focus on the entanglements between migration and digitisation as it is interconnected in the documentary films discussed, as well as its aesthetic and cultural implications.
This presentation took place online, on August 12, 2021, and was moderated by Marie Krämer from Institute of Media Studies and University of Marburg.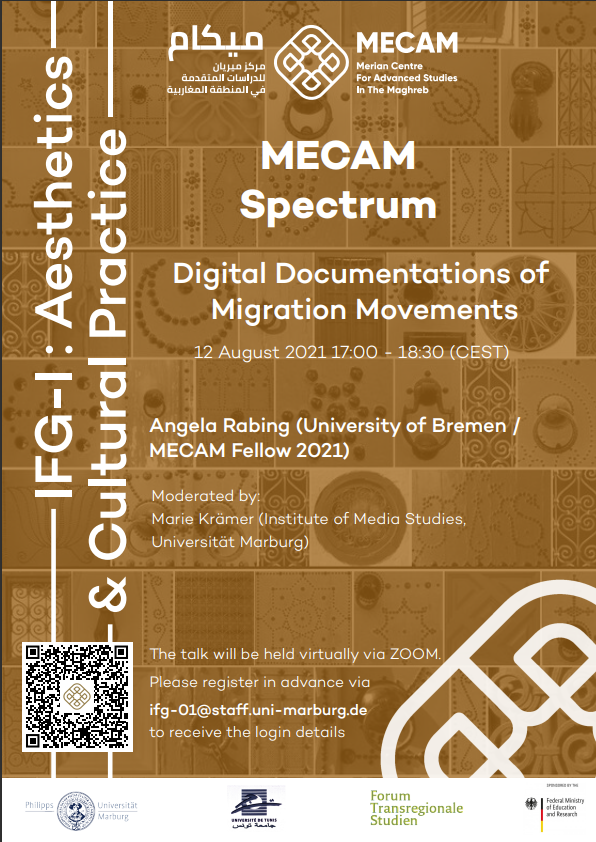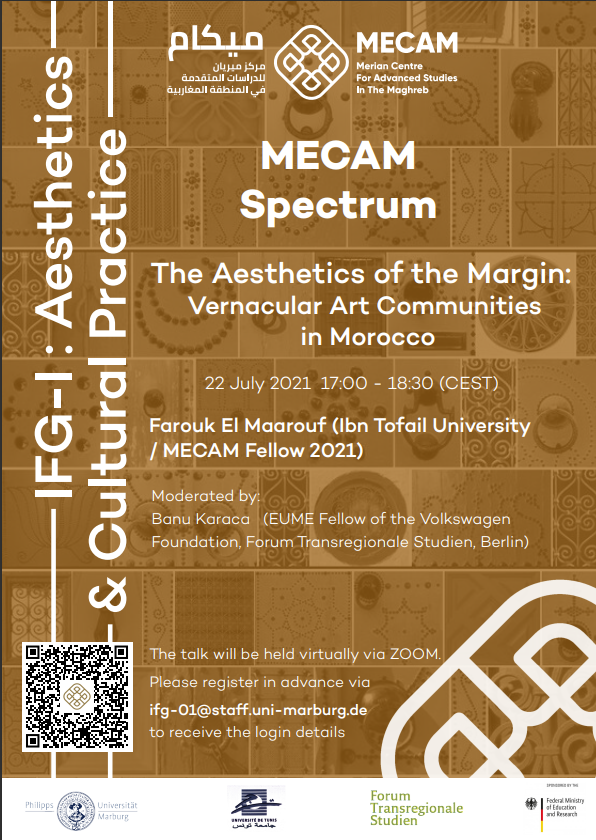 The Aesthetics of the Margin: Vernacular Art Communities in Morocco
For this MECAM Spectrum Farouk El Maarouf from Ibn Tofail University and a MECAM Fellow, presented his research project which departs from the contemporary cultural, social, and political history of Morocco to generate an adequate discussion on the meanings and implications of seeing (visualizing) in the domain of art and culture. In addressing questions of visuality and perception, we need to ask preliminary questions as to who is entitled to seeing. Whose eye? Who/what deserves to be the subject/object of the look? Who sees better? What does it mean to see in a context fraught with turmoil and tensions?
Keeping an eye on the importance of, and the ways of seeing, nonetheless, this research builds on the narratives of beauty/treasure hunters who do not see haven in orthodox ways of living gain. Indeed, this research rightly situates the discussion on the present and future of art circulation and the various underprivileged practitioners that contribute to the movement of art (across classes, cultural folds, and social loops). As it is important to come closer to the communities that operate therein, this research studies how different movements and flows affect the perception of the locals (and the perception of locals by onlookers) of categories such as beauty, aesthetics, happiness, and ethics, that, in return, borrow from and resonate with the popular (everyday) preoccupations, fears and future inspirations of the vulnerable communities involved.
This meeting took place Thursday, 22 July 2021, online, and was moderated by Banu Karaca, an EUME Fellow of the Volkswagen Foundation from Forum Transregionale Studien, Berlin.
Comics in Times of Arab Revolutions: Tracing Visual (Hi)stories of Socio-Political Transformations
Dr. Rasha Chatta, a MECAM Fellow, presented her project dealing about the mushrooming of the local and regional comics collectives throughout the Arab world in the past decade. This happened as a precise moment when revolutions and socio-political movements of contestation were unfolding in the region.
While the published comics strips reflect the different struggles on the ground as well as the inspirations and hopes ignited by these uprisings, Rasha Chatta contends that there is a dialectical relationship between the emergence of a new comics scene that is closely tied to the revolutionary moment, which has precisely allowed its emergence.
This talk maps the different cultural practices and the new aesthetic forms that have emerged in the wake of revolutions and resituates them in longer genealogies of local practices and collective memories on which they draw. By delineating the creative impulses associated with the revolutionary moment, it asks: how are struggles related to political, social, and gender issues addressed? How can we critically assess the collective reappraisal of the visual, both locally and regionally? How is agency regained collectively and against repressive national narratives? What kind of imaginaries and imaginations of the future do these graphic interventions renegotiate?
This meeting took place on May 26, 2021, online, and was moderated by Prof. Dr. Friederike Pannewick from Department for Arabic Studies at Philipps-Universität Marburg and a Principal Investigator of MECAM's IFG "Aesthetics & Cultural Practice"