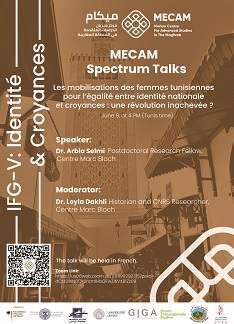 Tunisian women's mobilisations for equality between national identity and beliefs: an unfinished revolution? By Arbia Selmi
*Abstract*
After twelve years of Arab revolts, Tunisia is going through a decade of profound political, economic and social changes, with the main issues being the establishment of democracy, social justice, the fight against exclusion and gender inequality. However, despite significant advances in women's rights in Tunisia, women cannot inherit on an equal basis with men; a feminist movement for equality in inheritance was created in 2018; gathering more than 60 secular feminist associations, mobilised against the Islamic movement to pressure the government to adopt a law for equality in inheritance proposed in 2018. In addition, the Tunisian Parliament is rejecting the draft law establishing equality in inheritance between the sexes. This is due to the patriarchal societal culture, religion and "national identity" which is defined in Article 1 of the Tunisian Constitution of 1 June 1959 and repeated in 2014. This rejection provokes the anger of women who have mobilised to pressure the government to adopt this text.  My research project answers the question, "How do national identity and beliefs influence the rights of Tunisian women? "
* Arbia Selmi (Centre Marc Bloch)*
Arbia Selmi is a sociologist of labour and gender. Her doctoral thesis in sociology at the École des hautes études en sciences sociales (EHESS) in Paris focuses on the mobilization of women trade unionists for access to positions of power within the Tunisian General Labour Union (UGTT). Since March 2022, Arbia Selmi is a member of the IFG framework: Identities and Beliefs as part of a postdoctoral fellowship with the Merian centre for advanced studies MECAM in Tunis.  Arbia Selmi is a member of the axis "Gender, class, race" of the Maurice Halbwachs Centre in Paris, and since October 2019, an associate member of the Marc Bloch Centre in Berlin, on the axis "Dynamics and experiences of globalization". Her research lies at the intersection of three fields of analysis: political sociology (collective mobilization); sociology of gender; sociology of organizations. Arbia is an expert in gender studies and has specialised in gender and trade union issues. She is a feminist activist involved in associations fighting for gender equality and against violence against women in Tunisia.
Details:
Date : Thursday, 8 June 2022, 16:00 – 17:30 (CET / Tunis Time)
Speaker:: Dr. Arbia Selmi (Centre Marc Bloch)
Moderator:: Dr. Leyla Dakhli (Centre Marc Bloch)
La conférence aura lieu  dans les locaux du MECAM, c/o ISEAHT, 27, rue Florian – Borj Zouara (Bab Saadoun), Tunis, et en ligne via le zoom.
Zoom link : click here
Meeting ID : 811 9029 2315
Access code : 086713