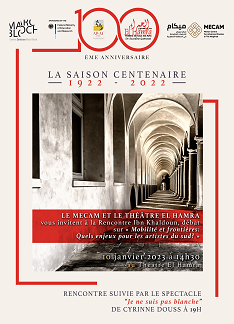 Mobility and borders: What issues for artists from the South?
This meeting aims to create a platform for exchange between the scientific community and the actors of the cultural, political and civil society.
Questioning the issues of circulation of Tunisian artists and more broadly artists from Arabic-speaking countries is at the heart of this discussion proposed by MECAM, in collaboration with the El Hamra Theatre. The mobility of artists is at the heart of artistic practice, training and creation processes. However, the persistent inequalities in access to these circulations impact the Tunisian cultural environment. These inequalities, reinforced in the post-COVID 19 context, materialize in particular in the difficulties of access to visas, in the increase in travel costs to the detriment of artists from the South. But these issues of disparity are also noticeable in artistic and aesthetic expectations. Funding and programming opportunities on international stages are often limited to perceptions centered on identities and socio-political contexts as they are perceived externally. How do artists and arts and cultural institutions develop their practice in cooperation and resistance to these issues? This question and these issues will be discussed by three speakers: Cyrinne Douss, Cyrine Gannoun and Ophélie Mercier and moderated by Vanessa Barisch. An exchange with the public will then be organized to expand the debate.
The Tunisian-French choreographer and dancer Cyrinne Douss will participate in the debate by talking about her career, her personal position and her artistic approach. As a bi-national, she will share her views and experiences on identity issues on both sides of the Mediterranean and will allow us to discuss the notion of "out-group".
At the end of the discussion, Cyrinne Douss will present her performance "I am not white – بيضاء مانيش" as a possible extension of the debate.
Cyrine Gannoun is an artist based in Tunisia. She notes that doing performance in Europe has become even more difficult since the beginning of the Covid-19 pandemic. The visa processes are even more restrictive, and because of the hybrid formats, artists from outside the Schengen area receive less and less invitations to participate personally in festivals. In addition, there are a lot of exciting moments working with the Global North. Besides her artistic career, Cyrine Gannoun also works in the coordination of the El Hamra Theater and she also organizes the Young Artists Festival being a training platform for African and Tunisian artists. Managing these projects is also a challenge in this context.
Ophélie Mercier is a PhD student at Ghent University (Belgium) and an associate at the Marc Bloch Center in Berlin where she resides. She worked in Cairo from 2013 to 2016 as an actor (clown shows and street theater) and facilitator of social theater workshops with the Outa Hamra collective. Her thesis in Anthropology focuses on the trajectories of Egyptian artists who have settled in Europe (mainly in Berlin and Marseille) since 2013. From the study of their biographical paths and their artistic productions, this research aims to understand how the experience of mobility affects the reconfigurations of artistic practices.  Through the example of the Egyptian cultural milieu and artists settled in Berlin, Ophélie Mercier will explain how artists question identity assignments and inequalities through their practices.
In this Ibn Khaldoun Meeting, we aim to discuss the different points of view on the theme on two levels: First, the influence of the themes of (de-)colonization, mobility, borders and identity attributions on artistic work in particular performative art; second, the impact of macrostructures such as border regimes, funding, stereotypes towards a difference in the quality of artistic training in the North and the Global South in an environment affected by colonial structures.
"JE NE SUIS PAS BLANCHE | بيضاء مانيش" is a multidisciplinary creation that circulates between song, dance, text and performance.  How do we identify our impasses? How to face our intimate and collective shadow zones? To answer this question, Cyrinne Douss, alone on stage, engages in a process of metamorphosis and resistance.  Between power and vulnerability, she invites us to move, to better embrace our shared realities.