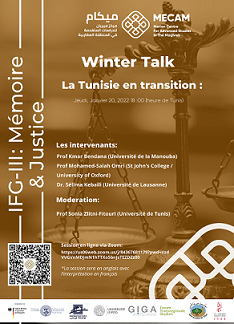 Tunisia in transition
Description During transitional justice processes, one of the main objectives is to recognise the injustices suffered by people, who are considered as victims, to change the structures that allowed those injustices to take place. However, the notion of victim is not only legal, but also social and political. The lectures in this panel discuss meanings and uses of victimhood in the Irish and Algerian contexts.
The Winter Talk take place online via Zoom (Meeting ID: 843 6768 1179 and Passcode: 540480) on Friday, 28 January 2022, 18h30 – 20h00 (Tunisian and Central European time) with Prof Marie Breen Smyth (University of Massachusetts / University of Surrey) and Dr Faouzia Zeraoulia (University of Jijel) as guest speakers. Prof. Ratiba Hadj-Moussa (York University) will be the discussant.