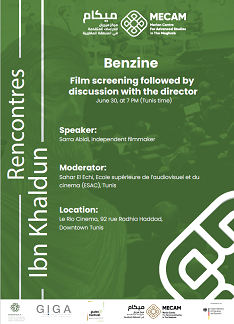 Benzine: Film screening followed by discussion with the director
Sarra Abidi (Independent Filmmaker) will present her film entitled: Benzine
Thursday, 30 June 2022, 7 pm (Tunis time) at Le Rio theatre in Downtown Tunis
Sahar El Echi (Ecole supérieure de l'audiovisuel et du cinema (ESAC), Tunis) will discuss the film.
The event will take place at Le Rio Cinema, 92 rue Radhia Haddad, in Downtown Tunis (behind the Africa Hotel)
*Synopsis*
Salem and Halima are looking for their only son who disappeared a few months ago. The latter chose to emigrate illegally to Italy a few days after January 14, 2011. The couple leads a relentless and desperate search that disrupts their lives. The film takes place in the South, an arid and austere landscape, a deep Tunisia where smuggling and socio-political tension are mixed.
* Sarra Abidi (Independent Filmmaker)*
Sarra Abidi, Tunisian filmmaker born on October 14, 1972 in Gabes, Tunisia, she studied at the Institut supérieur des Beaux Arts and then at the INSAS in Belgium. She also studied documentary film in Montreal and production at the INA-Paris. She has directed two short films, Le rendez- vous (2006) and Le dernier wagon (2010), and 111 Rue de la poste, a 52 min documentary (2011). Her first feature film BENZINE was released in 2018. Selected in several festivals, FIFF Namur, Dubai Film Festival, Cologne film festival, Aubagne film festival and other festivals, it received TV5 monde award, Best female performance award, Best male performance award, and Best film award. She has just finished her feature documentary BAKHARA/SULFUR, and is preparing her second feature film, Je m'appelle Clara.