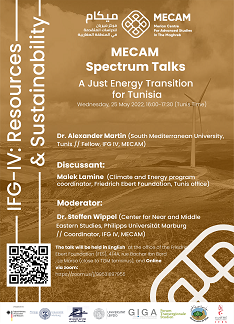 Alexander Martin: A Just Energy Transition for Tunisia
In cooperation with Friedrich Ebert Foundation/Friedrich-Ebert-Stiftung  (FES), Tunisia Office, La Marsa.
Using the concept of Energy Justice and the Just Transition framework, this talk critically analyses Tunisia's energy transition. The shift from fossil fuel dependence to energy produced from renewable sources and the establishment of a green economy is a difficult but scientifically essential process for all countries to undertake in order to diminish the impact of climate change while building economic and energy resilience. However, if undertaken effectively, energy transition can bring an opportunity to redress existing national, and global, injustices and inequalities.
Tunisia has committed to ambitious renewable energy production and carbon emission reduction targets as part of its COP26 Nationally Determined Contributions (NDCs) commitments. However, these goals are primarily driven by an intersection of geopolitical and macro-economic factors: the need to improve the state's energy security and reduce expenditure on hydrocarbon imports as energy demand is increasing and local-national hydrocarbon production is simultaneously decreasing.
Despite the chaos that climate change is causing, if Tunisia's energy transition also pays attention to social justice and employment opportunities, such as decentralising energy management and reskilling the workforce, it can also be a ladder to overcome decades of regional underdevelopment and marginalisation, particularly in the oil-producing regions that have the greatest Solar Photovoltaic potential.
Details:
Date: Wednesday, 25 May 2022, 16:00-17:30 (Tunis Time) // 17:00-18:30 (CEST)
Speaker: Dr. Alexander Martin (South Mediterranean University, Tunis // Fellow, IFG IV, MECAM)
Discussant: Malek Lamine (Climate and Energy program coordinator, Friedrich Ebert Foundation, Tunis office)
Moderator: Dr. Steffen Wippel (Center for Near and Middle Eastern Studies, Philipps Universität Marburg // Coordinator, IFG IV, MECAM)
The talk will be held in English at the office of the Friedrich Ebert Foundation (FES), 4/4A, rue Bachar Ibn Bord, La Marsa (close to TGM terminus), and Online via zoom.
 It will be commented by Malek Lamine (Climate and Energy program coordinator, Friedrich Ebert Foundation Tunis).