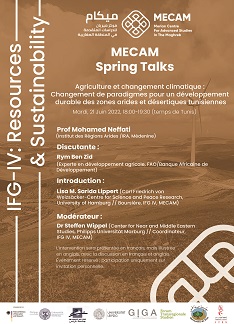 Mohamed Neffati : Agriculture et changement climatique : Changement de paradigmes pour un développement durable des zones arides et désertiques tunisiennes
Date: Mardi, 21 Juin 2022, 18:00-19:30 (temps de Tunis)
Lieux évènement : à la bibliothèque Al-Khaldounia sis à Souk Al-Attarine,la Médina de Tunis.
Prof. Mohamed Neffati (Institut des Régions Arides/IRA, Médenine)
Discutante : Rym Ben Zid (Experte en développement agricole, FAO/Banque Africaine de Développement)
Introduction : Lisa M. Sarida Lippert (Carl Friedrich von Weizsäcker-Centre for Science and Peace Research, University of Hamburg // Boursière, IFG IV, MECAM)
Modérateur : Dr Steffen Wippel (Center for Near and Middle Eastern Studies, Philipps Universität Marburg // Coordinateur, IFG IV, MECAM)
L'intervention sera présentée en français, mais illustrée en anglais, avec la discussion en français et anglais. Evènement réservé ; participation sur place uniquement sur invitation personnelle.