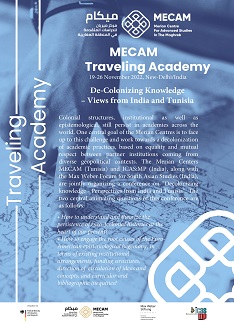 Traveling Academy « De-Colonizing Knowledge – Views from India and Tunisia », New-Delhi/India
The MECAM Traveling Academy takes place from November 19th to November 26 th 2022.
Colonial structures in the academic field are still an omnipresent reality favouring the hegemony of Western knowledge preserving global inequalities. One central goal of the Merian Centres is to face theses problematics and to work for decolonial academic contexts based on mutual respect between partners in an international surrounding. This is why, the Merian Centre for Advanced Studies in the Maghreb (MECAM) (Tunisia), the Max Weber Forum for South Asian Studies (India) and the le M.S. Merian – R. Tagore International Centre of Advanced Studies 'Metamorphoses of the Political' (ICAS:MP) (India) decided to jointly organize a conference on the topic of "Decolonizing knowledge- Perspectives from India and Tunisia" to discuss the following two core questions:
How to decolonize knowledge in a ongoingly colonial academic setting?
How to deal with the root causes like hegemonial knowledge, discourse and power structures as well as language as a colonial heritage?
Coming from a Latin American tradition, decolonial studies are highly relevant for the Indian and Tunisian context. Having experienced British and French colonialization as well as the ongoing Western imperialisms, India followed then the path of emancipatory post-colonial knowledge production, while Tunisia is firmly integrated into the French knowledge system. The conference will profit from the insights of both countries as vantage points to understand the ongoing dynamics and reflect upon decolonialization within knowledge production, university structures, research methodologies, etc. Thereby, already existing appropriation strategies, hybridizations and domestications of knowledge will be integrated into this initiation of academic exchange between both Merian Centres of Advanced Studies, MECAM and ICAS:MP.
The Traveling Academy's two-day academic conference will be complemented by a social program aligned with the keynote theme, including visits, talks, excursions, and a participation in an event hosted by the Merian Centre, ICAS:MP.