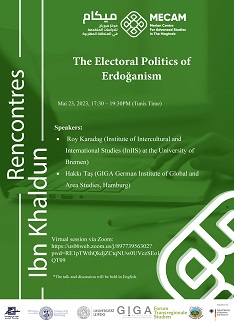 The Electoral Politics of Erdoğanism
The event will discuss the dynamics of electoral politics in Turkey in May 2023. Drawing on the results of the parliamentary elections and the first round of the presidential elections (14th May), Roy Karadag (University of Bremen) and Hakkı Taş (GIGA Hamburg) will present their ideas on specificities of Turkey's competitive authoritarianism. They will debate the role of institutional advantages for ruling elites in electoral settings and the strategies of contesting these advantages by opposition parties and activists. Finally, they will highlight what these results mean for Turkey's place in contemporary MENA politics.
Hakkı Taş is Research Fellow at GIGA German Institute of Global and Area Studies, Hamburg. His research interests include populism, diasporas, political Islam, and identity politics, with a special focus on Turkey and Egypt. In 2011, he received his PhD in Political Science at Bilkent University. Before his appointment at GIGA, he held researcher or teaching positions at Yale University, American University in Cairo, Ipek University in Ankara, the Swedish Defence University, and the University of Bremen.
Roy Karadag is research fellow at the Institute of Intercultural and International Studies (InIIS) at the University of Bremen. Before joining InIIS in 2011, he was doctoral student and Post-Doc at the Max Planck Institute for the Study of Societies in Cologne. His research includes Turkish and MENA politics, the history of welfare states and social policy in Africa. He is currently head of the research group "Social Policy and Rural Development" at the Collaborative Research Cetre 1342 "Global Dynamics of Social Policy".
Details :
Date: Mai 23, 2023, 17:30 – 19:30PM (Tunis and CE Time)
Venue: The talk and discussion will be held in English at the premises of MECAM, c/o ISEAHT, 27, rue Florian – Borj Zouara (Bab Saadoun), Tunis, and online via Zoom.