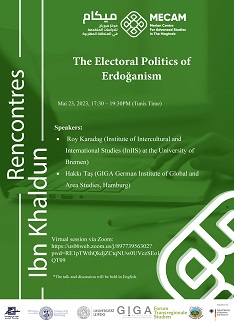 The Electoral Politics of Erdoğanism
L'événement portera sur la dynamique de la politique électorale en Turquie en mai 2023. S'appuyant sur les résultats des élections législatives et du premier tour des élections présidentielles (14 mai), Roy Karadag (Université de Brême) et Hakkı Taş (GIGA Hambourg) présenteront leurs idées sur les spécificités de l'autoritarisme compétitif de la Turquie. Ils débattront du rôle des avantages institutionnels pour les élites dirigeantes dans les contextes électoraux et des stratégies de contestation de ces avantages par les partis d'opposition et les activistes. Enfin, ils souligneront ce que ces résultats signifient pour la place de la Turquie dans la politique contemporaine de la région MENA.
Hakkı Taş est chercheur au "German Institute of Global and Area Studies" (GIGA), à Hambourg. Ses recherches portent sur le populisme, les diasporas, l'islam politique et les politiques identitaires, avec un accent particulier sur la Turquie et l'Égypte. En 2011, il a obtenu son doctorat en sciences politiques à l'université de Bilkent. Avant sa nomination au GIGA, il a occupé des postes de chercheur ou d'enseignant à l'université de Yale, à l'université américaine du Caire, à l'université Ipek d'Ankara, à la Swedish Defence University et à l'université de Brême.
Roy Karadag est chercheur au "Institute of Intercultural and International Studies (InIIS)" de l'Université de Brême. Avant de rejoindre l'InIIS en 2011, il était doctorant et post-doctorant au Max Planck Institute for the Study of Societies à Cologne. Ses recherches portent sur la politique turque et la politique de la région MENA, l'histoire des États-providence et la politique sociale en Afrique. Il dirige actuellement le groupe de recherche " Social Policy and Rural Development " au Centre de recherche collaborative 1342 " Global Dynamics of Social Policy ".
Details :
Date de l'évènement :  23 mai 2023, 17h30 – 19h30 (heure de Tunis)
Lieu : La conférence et la discussion se tiendront en anglais dans les locaux du MECAM, c/o ISEAHT, 27, rue Florian – Borj Zouara (Bab Saadoun), Tunis, et en ligne via Zoom.
Session en ligne via ZOOM