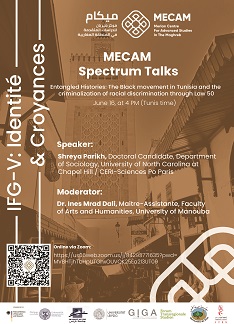 Entangled Histories: The Black movement in Tunisia and the criminalization of racial discrimination through Law 50
*Abstract*
Le 9 octobre 2018, l'Assemblée des représentants du peuple en Tunisie a adopté la loi sur l'élimination de toutes les formes de discrimination raciale (populairement connue sous le nom de Loi 50 ou Loi 50). En commençant par les interviews et la couverture journalistique qui ont suivi l'adoption de la loi et en passant par la couverture de l'application de la loi dans les affaires pénales ou civiles, les histoires enchevêtrées des deux – la loi et le mouvement noir – en Tunisie après 2011 continuent d'être assumées.
Dans cette conférence publique, Mme Parikh retracera les histoires entremêlées du mouvement noir et de l'élaboration et de l'application de la loi 50 jusqu'à aujourd'hui. Elle décrira l'élaboration de la Loi 50 comme un projet qui émerge des conversations dans les organisations antiracistes dirigées par des Tunisiens noirs. Elle présentera ensuite des cas clés qui ont fait usage de la loi 50 et les défis qui restent à relever pour sa mise en œuvre. Parikh terminera par une réflexion sur les implications de cet enchevêtrement dans la pensée et l'écriture de la négritude en Tunisie.
*Shreya Parikh (Université de Caroline du Nord à Chapel Hill / CERI-Sciences Po Paris)*.
Shreya Parikh est une double doctorante en sociologie au CERI-Sciences Po Paris et à l'Université de Caroline du Nord à Chapel Hill. Sa recherche de thèse porte sur les constructions et contestations de la race et de la racialisation en Tunisie à travers un focus sur les expériences de racialisation des Tunisiens noirs et des migrants subsahariens. Plus largement, elle s'intéresse à l'étude de la race, de la religion, de la migration et de la citoyenneté dans la région de l'Asie occidentale et de l'Afrique du Nord et dans sa diaspora. Ses travaux ont été financés par la Global Religion Research Initiative de l'Université de Notre Dame, le Kenan Institute for Ethics de l'Université de Duke, et des subventions internes de ses institutions d'affiliation. Ses recherches ont été publiées dans le Middle East Report du MERIP et le Carnet de l'IRMC ; ses articles d'opinion ont été publiés dans Nawaat (Tunisie), The Wire (Inde), ThePrint (Inde) et Dawn (Pakistan). Parikh a grandi à Ahmedabad en Inde, et a entrepris ses études antérieures à Sciences Po Paris et à l'Université américaine de Beyrouth.
Détails:
Date: Thursday, 16 June 2022, 4 pm (Tunis time) // 5 pm (CEST)
Dr. Ines Mrad Dali (Faculty of Arts and Humanities, University of Manouba) will discuss her paper.
Discussants: Shreya Parikh (Department of Sociology, University of North Carolina at Chapel Hill / CERI-Sciences Po Paris)
The conference will be held in French with the discussion in English and French. It will take place at the MECAM premises, c/o ISEAHT, 27, rue Florian – Borj Zouara (Bab Saadoun), Tunis, as well as Online via zoom:
Lin zoom: click here
Meeting-ID: 842 9377 1635
Passcode: 685064