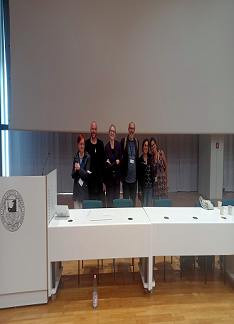 MECAM au Deutscher Orientalistentag 2022 à Berlin
Le jeudi 16 septembre, les anciens boursiers de l'IFG V du MECAM se sont réunis à Berlin, financés par les fonds propres de l'institution partenaire du MECAM, l'Institut allemand d'études mondiales et régionales (GIGA), pour participer à la réunion du centenaire du "Deutscher Orientalistentag" (https://dot2022.de/). Cet événement a été une occasion fantastique pour les boursiers de se réunir trois mois après la fin de la bourse en personne à Tunis et leur a donné l'occasion de diffuser les résultats de leurs recherches. Les communications du MECAM ont été organisées en un double panel sur "Les identités et les croyances", et divisées en deux sous-thèmes sur "Les identités musulmanes et la politique de solidarité", et "Les imaginaires de l'autre". Le panel a attiré beaucoup de monde, et les membres de l'auditoire ont posé de nombreuses questions et fait des commentaires critiques aux panélistes. En plus de présenter leurs recherches, les boursiers ont profité des nombreux autres panels sur la Tunisie et le Maghreb organisés dans le cadre de la conférence DOT-DAVO, ainsi que de la possibilité de nouer des contacts avec d'autres chercheurs dans ce domaine et de profiter des nombreuses attractions offertes par la ville de Berlin.
Composition du panel et participation
Panel 1: "Identities and Beliefs in the Maghreb I: Muslim Identities and the Politics of Solidarity"
Président : Alyssa Miller (GIGA-Hamburg)
Intervenants:
Guy Eyre, ABI Freiburg. Pious Paths Towards Politics? 'Quietist' Salafism and the Arab Revolts in the Maghreb
Alyssa Miller, GIGA-Hamburg. What Only a Mother Can Feel: The Promise and Limitations of Motherhood-based Solidarity in Tunisia.
Professor Elizabeth Bishop, Texas State University. Identities & Beliefs: The 'M' in UGEMA
Panel 2: "Identities and Beliefs in the Maghreb II: Imaginaries of the Other"
Président : Hakki Taş (GIGA-Hamburg)
Intervenants:
Julius Dihstelhoff, Philipps-Universität Marburg / MECAM. The foreign perception of German foreign policy by the Tunisian Nahda Party in the context of the Tunisian transformation processes after 2010
Shreya Parikh, University of North Carolina at Chapel Hill / CERI-Sciences Po Paris. Hindaoui/a: The Racialized Imaginations of South Asian Bodies in the Middle East and North Africa
Arbia Selmi, chercheur ERC LIVE-AR Ceped- IRD / chercheur assoscié CMH-CMB-Forum Transregionale Studien. Tunisian Women's Mobilizations for Equality: Identity, Beliefs and Unfinished Revolution?