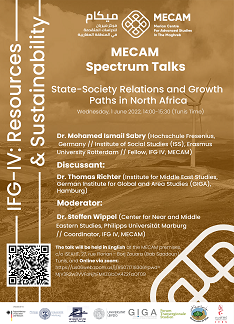 Mohamed Ismail Sabry: State-Society Relations and Growth Paths in North Africa
[Relations Etat-Société et trajectoires de croissance en Afrique du Nord]
Cette conférence présentera le projet de recherche de Mohamed Ismail Sabry au sein de l'IFG IV du MECAM. Ce projet effectue une analyse comparative des trajectoires de croissance qui se développent à partir des relations Etat-société existantes en Tunisie et au Maroc.
Les relations État-société sont analysées sur la base des relations État-entreprises-travail (state-business-labour relations / SBLR), c.à.d. les relations de pouvoir entre les principaux acteurs du secteur industriel des pays étudiés : l'État, les grands hommes d'affaires (magnats), les propriétaires et les gestionnaires de petites et moyennes entreprises (PME) (entrepreneurs) et les travailleurs. Les SBLR façonnent les politiques, les règlements, les législations et le degré de leur application, ce qui conduit à un profil de politique industrielle unique pour chaque pays. L'accent est mis sur les politiques liées à la concurrence et à la protection sociale, qui constituent des terrains de conflits potentiels entre les acteurs. Les politiques industrielles qui en résultent conduisent ensuite à des trajectoires de croissance différentes. Dans le projet, les trajectoires de croissance sont considérées en termes de grille de niveaux de croissance à long terme, d'égalité et de durabilité environnementale.
La Tunisie et le Maroc ont développé différentes SBLR au cours de la période postcoloniale et ces relations évoluent toujours d'une manière que ce projet de recherche tente d'explorer. Le projet adopte une approche comparative d'études de cas, utilisant principalement des données qualitatives soutenues par une analyse de données statistiques.
Details:
Date: Mercredi, 1er juin 2022, 14:00-15:30 (temps de Tunis) // 15:00-16:30 (heure avancée d'Europe centrale)
Dr. Mohamed Ismail Sabry (Hochschule Fresenius, Germany // Institute of Social Studies (ISS), Erasmus University Rotterdam // Fellow, IFG IV, MECAM)
Discussant: Thomas Richter (Institute for Middle East Studies, German Institute for Global and Area Studies (GIGA), Hamburg)
Moderateur: Dr. Steffen Wippel (Center for Near and Middle Eastern Studies, Philipps Universität Marburg // Coordinator, IFG IV, MECAM)
Formulaire d'inscription: cliqué ici
La conférence se tiendra en anglais le 1er juin 2022 dans les locaux du MECAM, c/o ISEAHT, 27, rue Florian – Borj Zouara (Bab Saadoun), Tunis, et en ligne via zoom. Elle sera commentée en ligne par Dr. Thomas Richter (Institute for Middle East Studies, German Institute for Global and Area Studies (GIGA), Hambourg).
Lien Zoom : cliqué ici