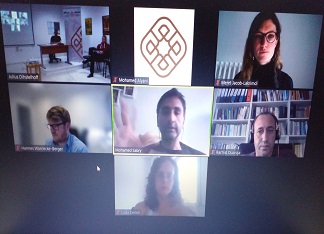 Rencontre IFG IV avec le réseau de recherche NATURAL RESOURCE EXTRACTIVISM IN LATIN AMERICA AND THE MAGHREB
L'IFG IV "Ressources et durabilité" du MECAM a eu le plaisir d'accueillir des représentants du réseau de recherche "NATURAL RESOURCE EXTRACTIVISM IN LATIN AMERICA AND THE MAGHREB" à leur réunion de groupe le 28 avril 2022.
Lors de cette réunion, Hannes Warnecke-Berger, le coordinateur du projet, a présenté le projet commun des universités de Marburg et de Kassel (https://extractivism.de/en/). Avec son approche comparative et transrégionale, le projet se considère dans un rôle intermédiaire, reliant deux des centres Merian, à savoir le Merian Centre for Advanced Studies in the Maghreb (MECAM) à Tunis et le Centro Maria Sibylla Merian de Estudios Latinoamericanos Avanzados (CALAS) à Guadalajara, au Mexique. Deux des membres du projet, Meret Jacob-Lakrimdi et Luíza Cerioli, qui travaillent sur le Maghreb, ont rendu compte de leurs projets individuels. Tandis que Meret travaille sur les espaces de négociation et les champs d'action pour les jeunes au Maghreb, Luíza étudie des interdépendances entre le système international et les plans de développement dans les sociétés extractivistes d'Amérique du Sud, d'Afrique du Nord et du Golfe. Rachid Ouaissa, qui est à la fois directeur du MECAM et du projet Extractivisme, a également participé à la réunion.